Evan Turner made himself a man today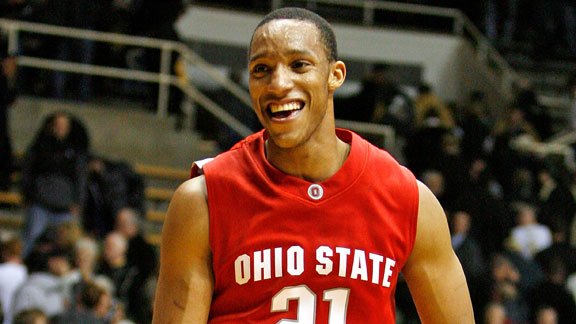 We have had quite the thriller at Canseco Fieldhouse this afternoon at the Big Ten Tournament. It looked like Manny "Fresh" Harris led his Wolverines to a huge upset over an Ohio State team that was looking to nab a number one seed for the big dance.
But wait one minute Maize Craze. You were forgetting about one fellow on Ohio State that was the Big Ten POY for a reason and just might be the National Player of the Year. Evan Turner is probably somebody you don't want touching the ball with the game on the line. Apparently Michigan doesn't believe in pushing their defense up court to prevent Turner from even getting a whiff of the ball.
The Chicago native and possible number one NBA draft pick just broke the hearts of every UM student and alum.
What was Michigan thinking? You need to force him away from his basket. You need to prevent him all together from touching the ball. Sure he hit a 40 footer to win the game but that is why he should be the National Player of the Year.
But Michigan, Michigan, Michigan, you had that game in your pocket. Manny Harris scored 26 points, two of which what seemed to be the game winner with less than 3 seconds remaining. The Wolverines went into a timeout with every bit of momentum and the place in shock.
But coming out of that timeout, why if your John Beilein, do you have your team fall back into the laid back 1-3-1 zone? Why don't you have the long Manny Harris and another random player swarm and double team Turner? You need to let anyone else on that team beat you, just NOT Turner.
I turned on this game this morning expecting to see Evan Turner solidify his candidicy for POY. I never truly believed Michigan had a chance against Thad Matta's number one seeded Buckeyes.
I thought if Sims and Harris played exceptional, there was a possibility for a decent game, but I never would have guessed a last second heave would have decided the outcome. I mainly just wanted to watch some hoops in anticipation of the Illini vs. Wisconsin game.
But I should have known that Michigan vs. Ohio State would have had an underlying factor and an underlying hatred that would manifest itself and create one hell of quaterfinals matchup.