Picking some players on the Hawkeye football team that can be "Dark Horse" players.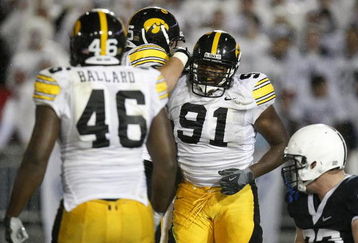 With 178 days until kickoff and a basketball team that very well could be beat by any given intramural team at UI, I thought it would be nice to dream a little bit. Instead of beating up the dead horse that is Todd Lickliter for the umpteenth time, let's talk Iowa football.
I was reading the forums this afternoon and came along a topic that interests me and could harp some good conversation. The question was what players could be the possible "dark horse" for the 2010 season? What players can step in, make an instant splash and perform far and beyond expectations?
Of course we have our own thoughts but we will also incorporate some of the thoughts of those on the forum to sweeten up our own beliefs.
For starters I think the supporting cast on the defensive line will be fabulous this coming year. It isn't much of a true "dark horse" pick, but it is a safe one. The main reason will be the apposing teams complete focus at preventing Adrian Clayborn from pulling an Orange Bowl over and over again. You have to figure he will be attracting double teams and matching up with some of the Big Ten's best offensive linemen, sort of like the Hawkeyes very own Kobe Bryant.
Broderick Binns, my personal favorite Karl Klug, and Christian Ballard are all exceptional talents, and have a ton of experience after last year. They played well in their first season as starters, and made most of Hawkeye nation forget the name King and Kroul (which might have made King crack. We saw him at the Michigan game applying make up to his face and causing a giant ruckus. He was a drunken slob. A great deal of respect was lost for him that day).
I really like this point from TheCloser (1,653 career posts): "[the defensive line] will have had a chance to build up some size and strength that they were not completely developed last year." This is an extremely good point and from the looks of it completely true. In an article on the Gazette Online, Norm Parker reported that the D-Line has already put on some significant weight. Ballard is sitting at 311 pounds (+26 pounds), Clayborn is now at 294 pounds (+10 pounds), Klug is at 274 pounds (+12 pounds), and Binns is at 265 pounds (+16 pounds). Good call Closer.
Continuing with my easy picks, I think Keenan Davis is going to play a much more vital role this season. He is obviously talented beyond belief and has great hands so look out for this young man to learn from DJK and McNutt will proving that he is the future for the Hawkeyes at the wide out position.
Jeff Tarpinian is not really a "dark horse" either but he is going to play a colossal role on defense. We've seen him pop opposing teams on special teams, and played well last year when he got the chance at the linebacker position. With the super group known as "Six Seconds of Hell" in front of him, Tarp is going to be able to make a ton of big plays this coming season and fill in a giant void left behind by Angerer and Edds.
My next "dark horse" pick is coming straight off the forum. Woody Orne a transfer offensive tackle is receiving a lot of buzz. He was South Dakota State's player of the year at tackle and earned conference honors there as well. It looks as though he could step in and play at tackle with Reiff next season. A thought from Thaihawk: "A lot of space to fill on the OL and one of them will step up. And Orne will be the guy. Coaches been high on him." It also looks as though Casey McMillan could be stepping up as a pre season favorite to play one of the guard spots. Last year coaches were discussing taking his red shirt status away so be on the look out for this kid during the spring game.
If I had to pick two players that need to become "dark horses" together I'd have to pick Shaun Prater and Jordan Bernstein. With Amari Spievey gone to the draft, both of these guys need to step up and play well in the secondary. Snipster nailed it on the head when he said, "on defense the guy that gave some glimpses of future ability in my mind is Prater. We really need him to become a beast @ corner." Bernstein can be the true definition of a "dark horse". He is an Iowa kid, looking to prove that last years injury hasn't caused him to miss a step. He was slated as a starter at the cornerback position during spring practice last year and hopefully he can use that as motivation for this year.
There are other feasible options for "dark horse" players, but if Ferentz and the rest of the coaching staff can get the players I mentioned above to perform well, Iowa will be in store for one hell of a season. A season that could go down as one of the greatest in the history of the program.